Having a good trading computer or laptop is crucial if you want to focus on your investments without having to worry about your technology. Choosing a laptop can be hard if you are a trading beginner or are unfamiliar with what makes a good trading computer.
Here are five things to look for when choosing a laptop or computer for trading:
Storage and memory capacity
Cost of the laptop or computer
Compatibility with trading software
Portability
Personal preferences
In this article, I will explore these 5 factors in greater detail and will also provide you with some personal recommendations on some really great trading laptops that you can consider buying. 
IMPORTANT SIDENOTE: I surveyed 1500+ traders to understand how social trading impacted their trading outcomes. The results shocked my belief system! Read my latest article: 'Exploring Social Trading: Community, Profit, and Collaboration' for my in-depth findings through the data collected from this survey!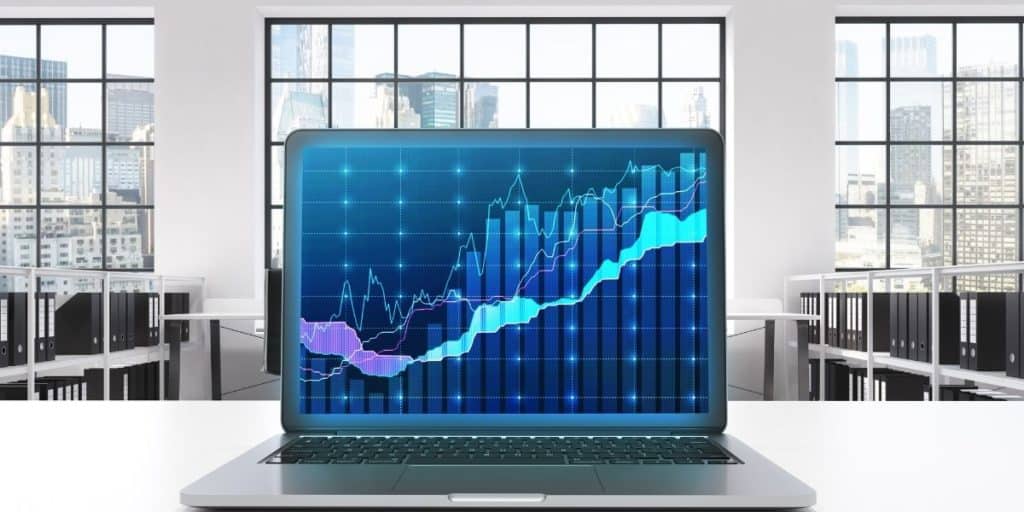 1. Storage and Memory Capacity
You need to have a computer with enough storage space and memory to be an efficient trader. The last thing you want is to spend time deleting items from your computer to make more storage space or to be waiting for your computer to load or run your software instead of spending your time trading. 
Here are some good laptops available for purchase on Amazon.com that have a lot of storage space and will run fast:
Microsoft Surface Laptop – Cobalt Blue: This laptop has 512 GB of memory and 16 GB of RAM. It runs fast and has a lot of storage with the option to add more external storage. It is also very portable given how much storage it has – it weighs only 5 pounds (2.27 kg) and has a 13.5 inch (34.29 cm) screen.
HP 17 17.3″ HD+ Laptop Computer, Intel Core i3 1115G4 up to 3.2GHz (Beat i5-8365U): Another great laptop is this one from HP, which also offers 1 TB of built-in storage and 32 RAM. The laptop has a 17.3 inch (43.94 cm) screen and weighs just over 5 pounds (2.27 kg) which is extremely portable given all its storage and features.
2. Cost of the Laptop
As with any computer, buying a high-quality trading computer doesn't necessarily mean spending an absurd amount of money. However, they can set you back a good amount if you want one that is fast and high-powered. Laptops can range from a few hundred dollars to over one thousand. 
You will need to determine your budget and what features you're okay with sacrificing for a lower price. Cheaper laptops tend to be smaller and have less memory and storage, and if you want more storage, a larger screen, you will have to spend more money. 
If you are a serious investor and spend a lot of time trading on your laptop, spending a little more to have a great laptop will be worth it.
Here are a few great trading laptops from Amazon.com that will meet all budgets:
For an affordable option, I recommend the Acer Aspire 5 A515-56-36UT Slim Laptop | 11th Gen Intel Core i3-1115G4 Processor. It's powerful without being expensive and has a vibrant 15.6 inch (39.62 cm) screen. It has a built-in cooling system, so you don't have to worry about overheating. Additionally, it has a battery life of over 8 hours. It weighs just over 4 pounds (1.81 kg) and has a 128 GB hard drive.
For an option with higher-end features, I recommend the Lenovo Legion Y540 Gaming Laptop: Core i7-9750H. Though advertised as a gaming laptop, it's also perfect for trading because of the many features it offers. It has a 1 TB hard drive and 16GB RAM with a large 17.3 inch (43.94 cm) screen. It runs fast, and you will never be pressed for storage. 
3. Compatibility With Trading Software
The trading software you use is a crucial part of being a trader, so you need to make sure that your software works with your computer. You can check your software's website or contact them to find out the minimum requirements for computer installation. 
Make sure that you always have a computer that works above your software's requirements so you can use other programs and have extra storage space. If your software is all that your computer can run, it will be slow, and you will have difficulty accomplishing anything. 
This YouTube video from Rayner Teo will help you find the best trading software for beginners. The software mentioned in this video is free, which means you can save money to spend on a trading laptop or when investing. 
Another great YouTube video about trading software is this one from ClayTrader. This video covers some of the best trading platforms available, all of which have the tools necessary to be a successful trader, even as a beginner:
4. Portability
You also need to decide if you will be taking your laptop to different places to do your trading, or if you will only be using your trading computer in one place like your home or work. 
If you are online working in one place, it does not matter if you choose a laptop or not. Additionally, if you do choose a laptop, the weight and size of it will not matter. 
However, if you will be moving around, taking your computer back and forth between home and work, or any other situation where you are not leaving your trading computer in one place all the time, you should get a laptop for trading. 
You should ideally choose a lightweight laptop that you can easily carry in a laptop bag or backpack so that you can easily transport it. You should also look for a good balance between a small laptop that is easy to carry without sacrificing too much screen size such that it is hard to read your screen.
Here is a great, lightweight, and portable trading laptop and a helpful accessory from Amazon.com if you are going to be traveling with your trading computer: 
5. Personal Preferences
Considering your personal preferences is important when choosing any new computer or laptop, including as a trader. You do not want to end up with an operating system that you do not like or don't understand, and you want to make sure that there are any features you need.
First, you should consider what operating system you prefer – Mac OS or Windows? If you want Mac OS, you have limited options compared to Windows since Apple only sells so many laptops and computers with their Mac operating systems.
If you want Windows, you have many more options and, therefore, more features that you can consider when choosing a trading laptop. 
One of the most important features for traders to consider is what ports and adapters are compatible with your computer. Ports allow you to add extra screens and storage, both of which are important for trading. If there are any other features that you want, make sure your laptop has these too. Some options you may consider include a disc drive, a built-in camera, a headphone jack, and the type of keyboard and mouse.
Author's Recommendations: Top Trading and Investment Resources To Consider
Before concluding this article, I wanted to share few trading and investment resources that I have vetted, with the help of 50+ consistently profitable traders, for you. I am confident that you will greatly benefit in your trading journey by considering one or more of these resources.
Affiliate Disclosure: We participate in several affiliate programs and may be compensated if you make a purchase using our referral link, at no additional cost to you. You can, however, trust the integrity of our recommendation. Affiliate programs exist even for products that we are not recommending. We only choose to recommend you the products that we actually believe in.